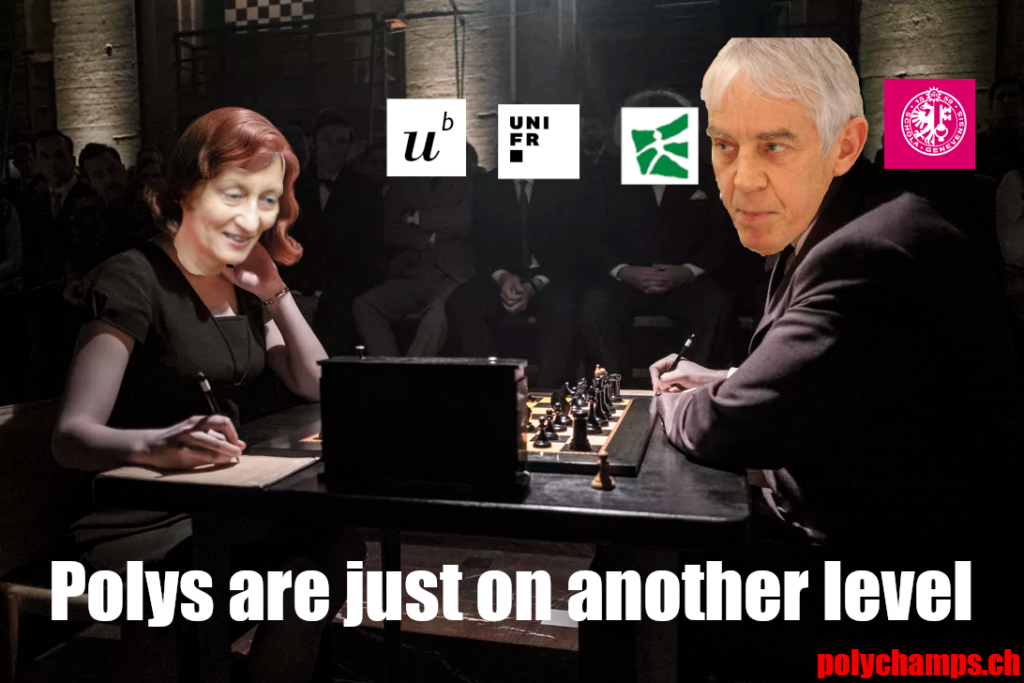 Following last year's success, we decided to reiterate the Polychamps, the annual chess confrontation between the EPFL and ETHZ. It took place on the 3rd of May 2022. The format was mostly the same a lichess team battle arena in 5'+3". However, the number of participants was limited to 75 as we learnt from the last edition that having balanced teams was very important. The number of players reached 143, less than last year, but it didn't stop top tier players to tune in. Remembering their loss from last year, EPFL players were eager to take their revenge. However, from Zürich's side, we all knew how it would end.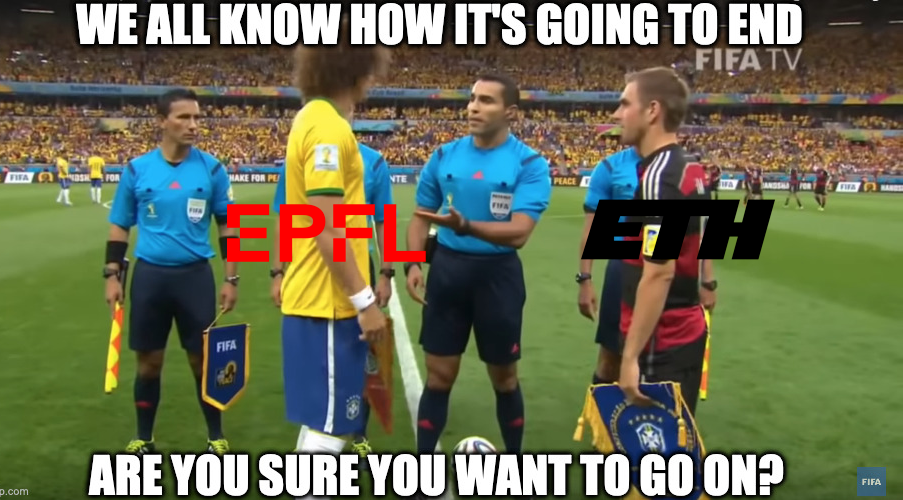 Livestream started a few minutes before the tournament and one of our best players FM Theo Stijve, a Computer Science student at ETH, traded his role as our lead player to commentator. He did a fantastic role of analyzing and commenting the games. Trying to keep up with insightful and precise analysis, Paul and Jean accompanied him for the stream as biased consultants, as for them being Welsch or Bourbine changed your game valuation drastically.
Could we add a no fork rule in the arena ? knights are too tricky

chacha_lulu
As soon as the tournament kicked off some interesting rule changes were proposed as some players were feeling the game did not fit their taste.
refusing en passant is a federal crime, like tax evasion

augusto_jc
On a more serious note the tournament was very tight all hour an a half long. Initially EPFL took a serious lead thanks to GontranDemiSel getting an impressive streak on his first 9 games, Bezerking in every single one of them. Although he was stopped by Spirit_Of_Light in his 10th game, he finished top of the table when it comes to the individual classification.
After this thriving start from La Dame Blanche, it would really take a great effort from our team SKETHZ to come back. But thanks to our incredible density of strong players this was done in a fantastic manner. Seven of the top ten final classification where from team ETH. Special shoutout to mateodezpolo who came in clutch winning all his game but the first two he played.
All games can be seen and replayed on https://lichess.org/tournament/xoRtOybY
This year's edition was heaps of fun thanks to all the players and organizers. We can already tell you this great tradition that is the Polychamps will continue for a 3rd edition next year already, in a very new and exciting format. Stay tuned for the news!