On Saturday, May 20th the first edition of the ETH Chess Championship took place in the Alumni Pavillon, with the titles of ETH Chess King and ETH Chess Queen at stake.
This has been an exciting event with 73 participants. The competition was tough with no less than 5 titled players! Before the break, only two players had scored full points: Mateo and Kirill. They faced each other in a high-stakes game as the winner would take a serious option on the tournament's victory. After a well-fought battle, Mateo had to resign making Kirill the sole leader. He then safely secured two draws in rounds 7 and 8 against the two favorites of the tournament and went on to win the last game to claim the title of ETH Chess King! Mateo and Noah complete the podium. Congratulation to all three of them!
Numerous prizes have been awarded beyond the podium. Special mention to Anna, who becomes the ETH Chess Queen as the first woman on the final ranking.
ETH Chess King: Kirill Zaitsev
ETH Chess Queen: Anna Adzic
Silver Medalist: Mateo Rodriguez Polo
Bronze Medalist: Noah Fecker
Best Bachelor Student: Theo Stijve
Best Master Student: Markus Fasching
Best PhD Student: Nagaarjhuna Arumuga Kani
Best UZH Student: Amir Alizade
Best Performance: Raphael Larisch
Best U1400: Giovanni Ottobonni
Best U1700: Josef Zoller
Best U2000: Serafin Jacob
Lucky winners: Giacomo Colombo, Paul Linder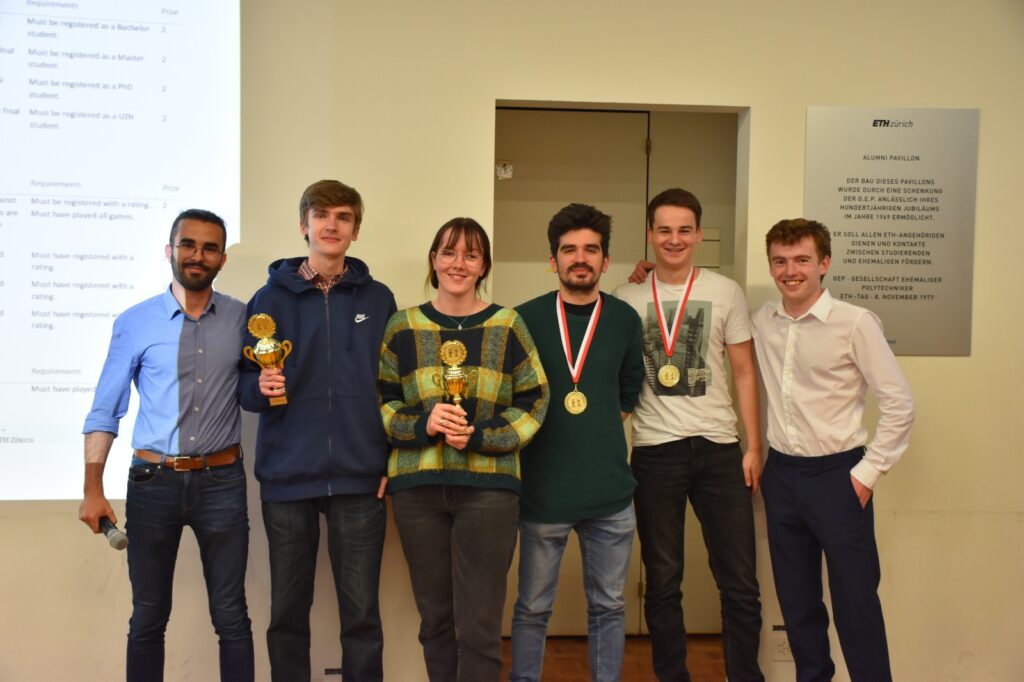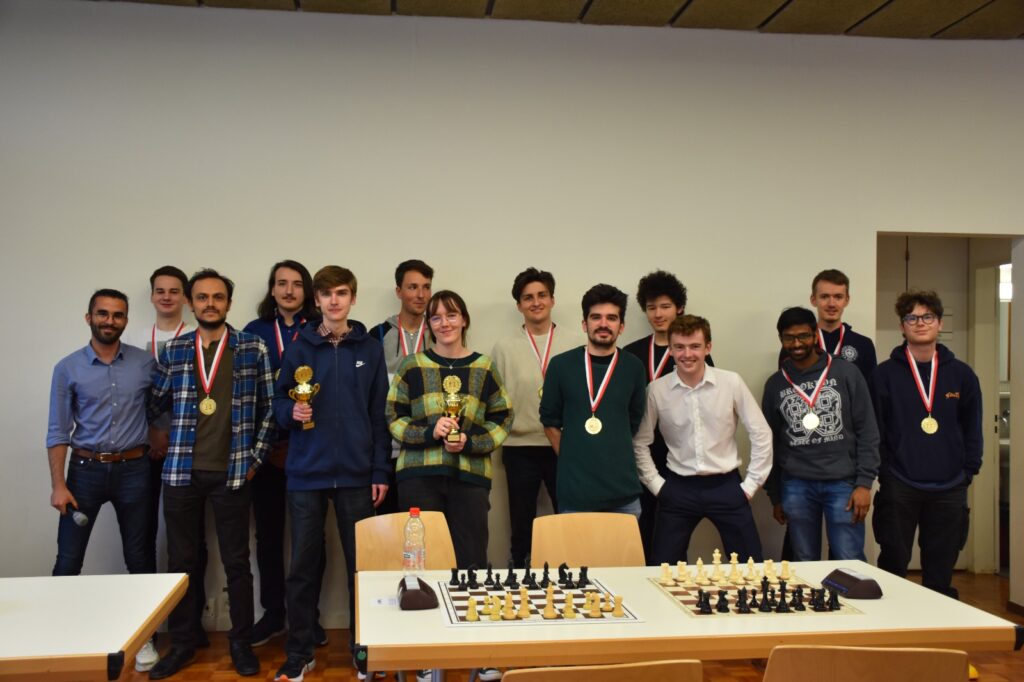 This tournament has been an incredible experience and we wish to again thank all the participants. We also wish to thank our partners: the VSETH, the Rektorat, and chess.com, for helping us bring this event to life.
The echoes of this year's Championship have barely subsided, but our sights are already set on the horizon. We are looking forward to seeing you all next year and until then have fun!
Below you can find the full ranking and other pictures taken during the event. Credits for the pictures go to Danilo Đorđević!
| Rank | Name | Rating | Score | Buc1 | BucT |
| --- | --- | --- | --- | --- | --- |
| 1 | Kirill Zaitsev | 2320 | 8.0 | 49.0 | 52.5 |
| 2 | Mateo Rodriguez Polo | 2400 | 7.5 | 51.5 | 56.5 |
| 3 | Noah Fecker | 2625 | 7.5 | 48.5 | 51.5 |
| 4 | Stijve Theo | 2600 | 7.0 | 50.0 | 54.5 |
| 5 | Yun Pan | 2178 | 7.0 | 41.0 | 45.0 |
| 6 | Nagaarjhuna Arumuga Kani | 2355 | 6.5 | 44.5 | 48.0 |
| 7 | Jan Buzek | 2203 | 6.5 | 43.5 | 47.5 |
| 8 | Matej Jusup | 2400 | 6.0 | 52.0 | 57.0 |
| 9 | Vincent Lou | 2300 | 6.0 | 48.5 | 51.5 |
| 10 | Serafin Jacob | 1972 | 6.0 | 45.5 | 47.0 |
| 11 | Marcus Imris | 1940 | 6.0 | 44.5 | 47.0 |
| 12 | Igor Szymanowski | 2183 | 6.0 | 44.0 | 47.5 |
| 13 | Gary Hoppeler | 0 | 6.0 | 42.5 | 46.0 |
| 14 | Lorenzo Vettor | 2200 | 6.0 | 42.0 | 46.0 |
| 15 | Jingqiu Ding | 2200 | 6.0 | 42.0 | 45.0 |
| 16 | Markus Fasching | 2150 | 6.0 | 42.0 | 45.0 |
| 17 | Janis Lutz | 2005 | 5.5 | 50.0 | 53.0 |
| 18 | Ritvik Radhakrishnan | 2200 | 5.5 | 45.0 | 49.0 |
| 19 | Adam Rahemtulla | 2027 | 5.5 | 44.5 | 47.5 |
| 20 | Tim Distel | 2050 | 5.5 | 43.0 | 47.0 |
| 21 | Marco Kammermann | 1950 | 5.5 | 37.5 | 41.0 |
| 22 | Anton Künzi | 2031 | 5.0 | 45.5 | 49.0 |
| 23 | Giacomo Colombo | 2050 | 5.0 | 45.0 | 48.0 |
| 24 | Sinan Deveci | 2150 | 5.0 | 43.5 | 47.0 |
| 25 | Apiram Vinayagamoorthy | 2050 | 5.0 | 43.5 | 46.0 |
| 26 | Anna Adzic | 2135 | 5.0 | 41.5 | 45.5 |
| 27 | Jan Černý | 1800 | 5.0 | 40.0 | 42.5 |
| 28 | Ivan Baburin | 2200 | 5.0 | 39.5 | 43.5 |
| 29 | Piraveen Selvakumar | 1940 | 5.0 | 39.0 | 42.0 |
| 30 | Frank Oberson | 2000 | 5.0 | 39.0 | 40.5 |
| 31 | Anton De Ruig | 1735 | 5.0 | 38.5 | 40.0 |
| 32 | Fionn Smith | 1750 | 5.0 | 35.5 | 37.0 |
| 33 | Mattia Wirth | 1865 | 5.0 | 33.5 | 36.5 |
| 34 | Alexander Seidl | 1923 | 5.0 | 33.5 | 34.0 |
| 35 | Raffael Insam | 2069 | 5.0 | 31.0 | 32.5 |
| 36 | Amir Alizade | 0 | 4.5 | 41.5 | 45.5 |
| 37 | Gioacchino Greber | 1840 | 4.5 | 40.5 | 43.0 |
| 38 | Ana Marija Vego | 1800 | 4.5 | 39.0 | 41.5 |
| 39 | Elia Steinfeld | 1967 | 4.5 | 34.5 | 37.5 |
| 40 | Giovanni Ottoboni | 1395 | 4.5 | 32.0 | 33.5 |
| 41 | Veit Billinger | 1865 | 4.0 | 40.0 | 43.0 |
| 42 | Frehner Thomas | 1715 | 4.0 | 38.5 | 41.5 |
| 43 | Josef Zoller | 1406 | 4.0 | 38.0 | 41.0 |
| 44 | Giorgio Tonetti | 1600 | 4.0 | 38.0 | 38.5 |
| 45 | Gilles Rossier | 1905 | 4.0 | 37.5 | 40.5 |
| 46 | Kevin Wu | 1700 | 4.0 | 37.5 | 38.5 |
| 47 | Yannick Neuffer | 1600 | 4.0 | 37.0 | 40.0 |
| 48 | Pascal Linder | 1630 | 4.0 | 36.0 | 37.5 |
| 49 | Silvio Bianchi | 1685 | 4.0 | 35.0 | 37.5 |
| 50 | Laura Alilovic | 1550 | 4.0 | 34.5 | 35.0 |
| 51 | Martin Zahariev | 1485 | 4.0 | 34.0 | 36.5 |
| 52 | Dimitrios Prasakis | 0 | 4.0 | 31.0 | 32.0 |
| 53 | Paul Uriarte | 2005 | 3.5 | 43.5 | 44.5 |
| 54 | Andrin Zoller | 1560 | 3.5 | 40.0 | 43.0 |
| 55 | Eric Liu | 1500 | 3.5 | 38.5 | 41.5 |
| 56 | Maximilian Lipowsky | 1000 | 3.5 | 31.0 | 33.5 |
| 57 | Ricardo Nicosia | 1485 | 3.0 | 34.5 | 35.0 |
| 58 | Nicolas Lazaro | 1830 | 3.0 | 33.0 | 35.5 |
| 59 | Raghu Raman Ravi | 1524 | 3.0 | 33.0 | 35.5 |
| 60 | Alec Tarashev | 1415 | 3.0 | 33.0 | 34.0 |
| 61 | Noe Keusch | 1395 | 3.0 | 32.5 | 33.0 |
| 62 | Ricardo Rodriguez | 1485 | 3.0 | 32.0 | 32.5 |
| 63 | Thomas Blattmann | 0 | 3.0 | 30.5 | 31.5 |
| 64 | Matthieu Croci | 1295 | 3.0 | 29.5 | 30.5 |
| 65 | Paul Linder | 0 | 3.0 | 29.0 | 30.5 |
| 66 | Raphaël Larisch | 789 | 3.0 | 27.5 | 28.0 |
| 67 | Yan Florian | 1145 | 3.0 | 24.0 | 25.0 |
| 68 | Egor Gubenko | 1545 | 3.0 | 23.5 | 24.5 |
| 69 | Adrian Porras | 1700 | 2.0 | 31.5 | 33.0 |
| 70 | Yannis Kafantaris | 1200 | 2.0 | 30.5 | 31.0 |
| 71 | Alessandro Bianchi | 1145 | 2.0 | 29.5 | 31.5 |
| 72 | Danilo Djordjevic | 0 | 1.0 | 27.0 | 28.5 |
| 73 | Adriano Airaldi | 1285 | 1.0 | 26.0 | 28.5 |