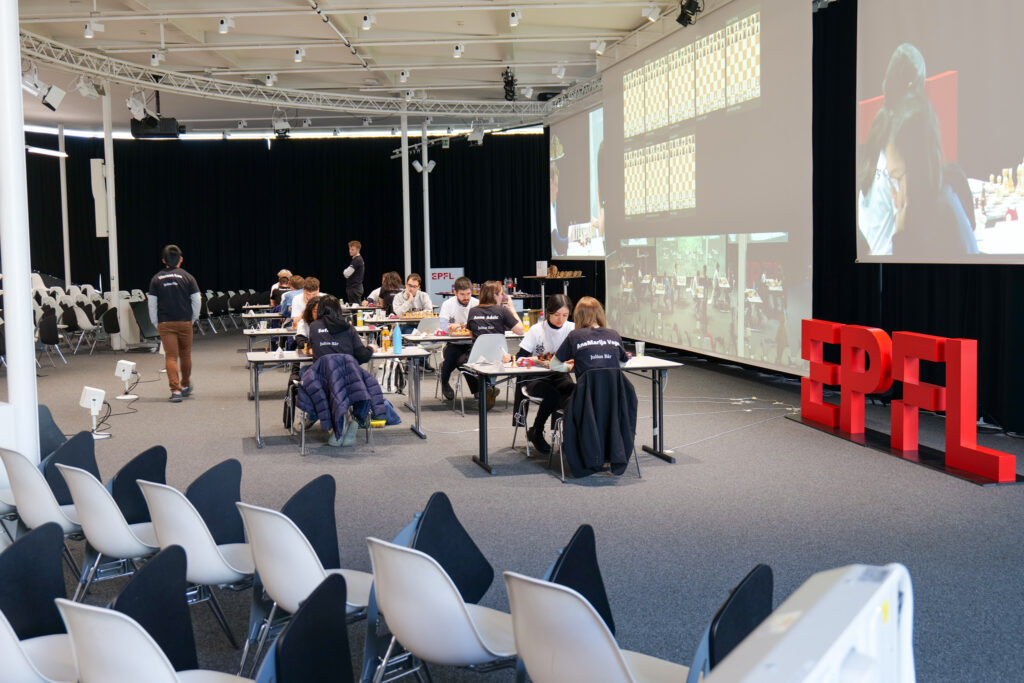 On the 11th of November, the chess battle between ETHZ and EPFL took place, and what a match it was! Both teams sent their strongest players for OTB games, with half of the players having an Elo rating higher than 2100. The venue, Forum Rolex at EPFL, was prepared and made ready as the matches were set to begin at 1:30 PM. While everyone was highly motivated, no one could have anticipated the turn of events that would unfold.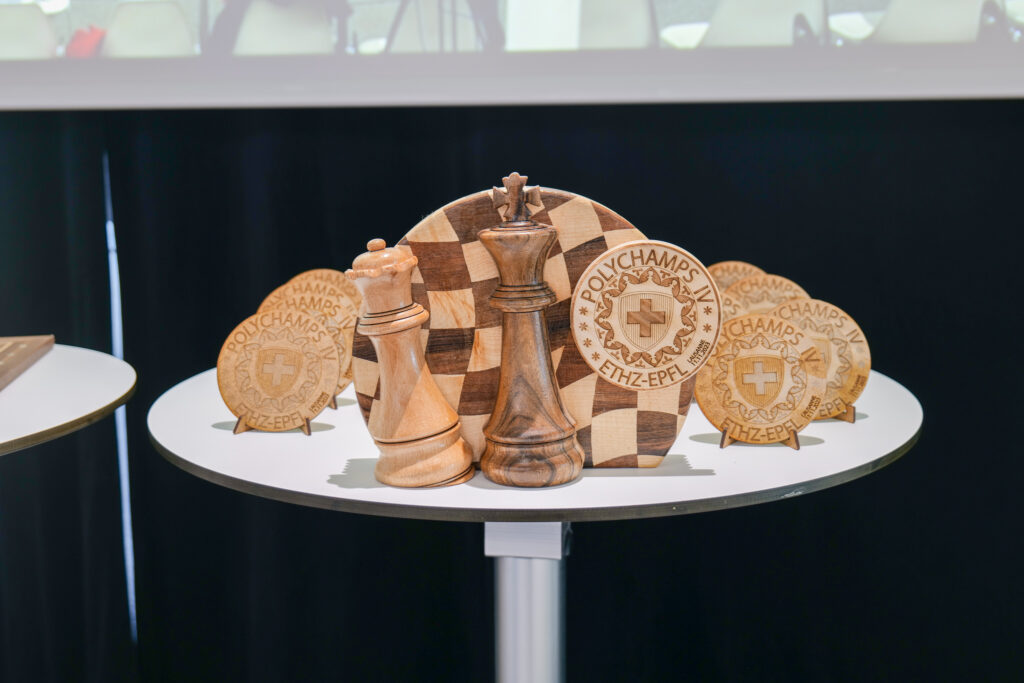 The format was clear: the top 8 players from each university would compete in OTB games. In addition, an online tournament open to all students and staff from ETHZ and EPFL was held, which counted as one full point and served as a tie-breaker in case of a tie in the OTB games.
| EPFL | ETHZ |
| --- | --- |
| FM Niels Willems (2372) | FM Noah Fecker (2387) |
| Julien Joly (2218) | IM Theo Stijve (2332) |
| Damien Ribière (2221) | Kirill Zaitsev (2242) |
| Oriol Sagiullo Gonzalez (2182) | Vincent Lou (2174) |
| Benedict Wasserfallen (1853) | Oliver Angst (2094) |
| Samuele Bisi (2070) | Anna Adzic (1908) |
| Victoria Tokplo (1646) | Sofia Li (1307) |
| Sophia Pheng (1128) | Ana Marija Vego (unrated) |
Grandmaster Robert Fontaine, currently the third-highest rated player in Switzerland, provided live commentary on Twitch. Grégoire Tissier (EPFL) and Jasper Dekoninck (ETHZ) added friendly banter during the stream. The games started and entered the opening phase, with most choosing for either the Sicilian or French Defense. Meanwhile, the online tournament was about to start, and ETHZ was about to make its first point there…
Indeed, ETHZ performed very well in the online tournament, getting a score of 485 against EPFL's 389, thus securing the first point for ETHZ. Thank you to all participants for their excellent effort! At this stage, EPFL needed a 5-3 lead in the OTB games, a difficult challenge given the current board scenarios. Almost all OTB games were balanced with complicated positions, and ETHZ seemed to hold firm. Oliver executed a brilliant knight sacrifice to gain an advantage, and Ana Marija had a comfortable position. However, as time pressure increased, the dynamics rapidly changed.
The first decisive result came on board 7, where Sofia faced aggressive play from her opponent, eventually leading to a win for EPFL, evening the score at 1-1. Soon after, Vincent capitalized on a blunder by his opponent, capturing a queen and securing another point for ETHZ.
As the matches progressed, the outcomes came one after the other. A loss by Kirill on board 3 allowed EPFL to draw level again at 2-2. However, Ana Marija converted her position, giving ETHZ the lead once more.
The situation on the other boards was less favorable for ETHZ. Oliver and Anna both lost in their games, Oliver losing his initial advantage in a difficult endgame. With only Theo and Noah left in play, ETHZ needed at least 1.5 points from the remaining 2 games to claim victory. Noah won his game, shifting the focus to Theo. Unaware of the online tournament result and under the impression that ETHZ was behind with 4-3, Theo decided not to repeat moves and went for a win instead. This decision proved costly, as his opponent leveraged the position to promote a pawn and secure the game.
The final score was 5-4 in favor of the hosts, EPFL, marking their second consecutive victory in the Polychamps and leveling the overall score at 2-2 across previous editions. This edition was not only exciting but also very well organized, thanks to the EPFL team and the generous support of our sponsors Julius Bär, ETH Rat, and Agepoly. Julius Bär even gave the winning team a chess board signed by Magnus Carlsen! Congratulations to EPFL on winning the tournament, and we look forward to next year's event!
Pictures of the events can be found at this link. The games can be replayed via this link and the stream can be rewatched via this link.
| EPFL | 5-4 | ETHZ |
| --- | --- | --- |
| FM Niels Willems (2372) | 0-1 | FM Noah Fecker (2387) |
| Julien Joly (2218) | 1-0 | IM Theo Stijve (2332) |
| Damien Ribière (2221) | 1-0 | Kirill Zaitsev (2242) |
| Oriol Sagiullo Gonzalez (2182) | 0-1 | Vincent Lou (2174) |
| Benedict Wasserfallen (1853) | 1-0 | Oliver Angst (2094) |
| Samuele Bisi (2070) | 1-0 | Anna Adzic (1908) |
| Victoria Tokplo (1646) | 1-0 | Sofia Li (1307) |
| Sophia Pheng (1128) | 0-1 | Ana Marija Vego (unrated) |
| Online Players | 0-1 | Online Players |