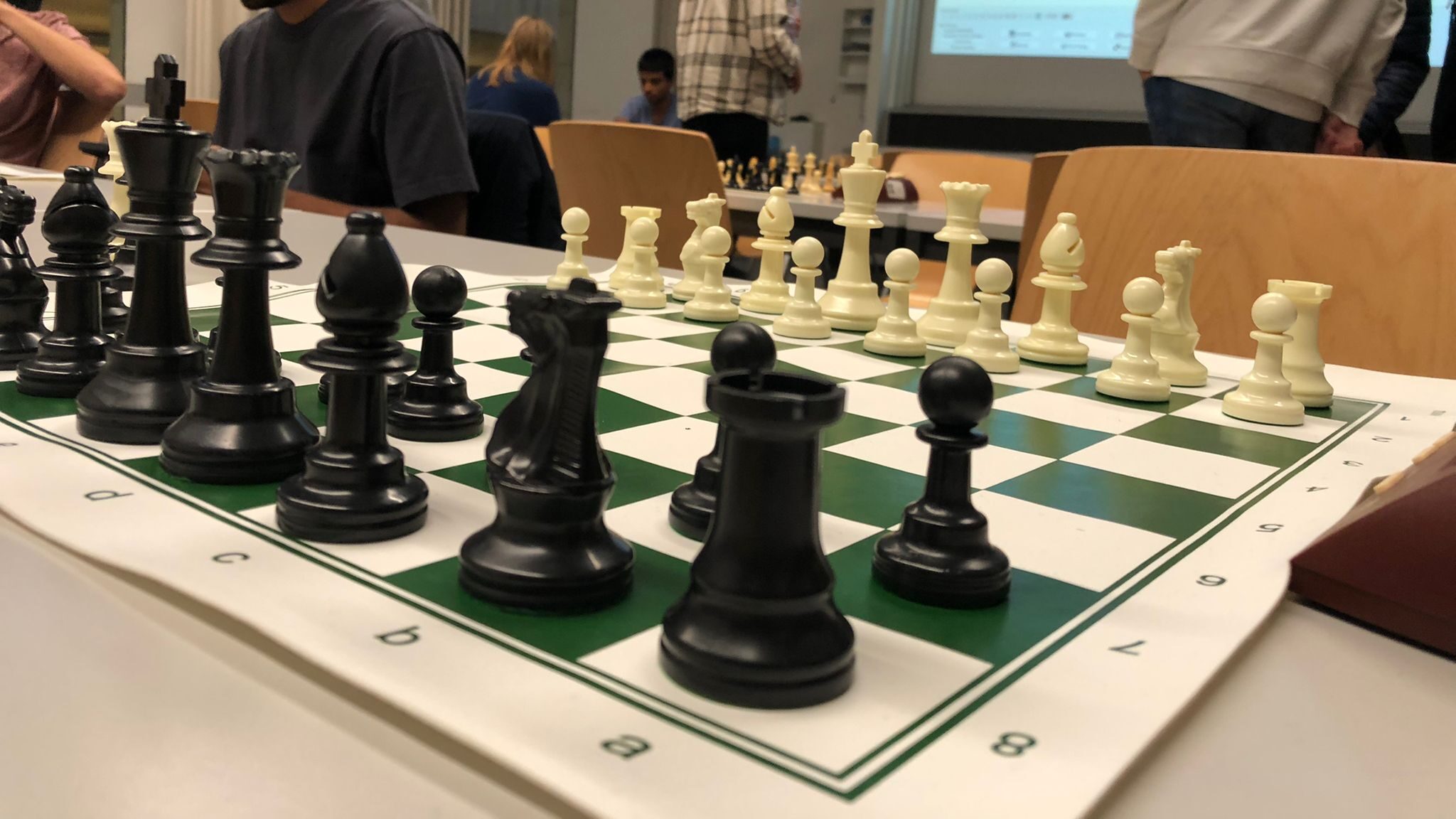 To determine the players representing ETH at the third edition of Polychamps, we organized this qualification tournament. Starting at 18:30 on Tuesday, 11 October, we played 7 rounds of 5min+3sec Blitz games.
With 25 boards ready to go, we were overwhelmed by the sheer amount of students ready to play. Amazingly, and tragically and the same time, too many people decided to participate and we had to make the cut at 50 participants.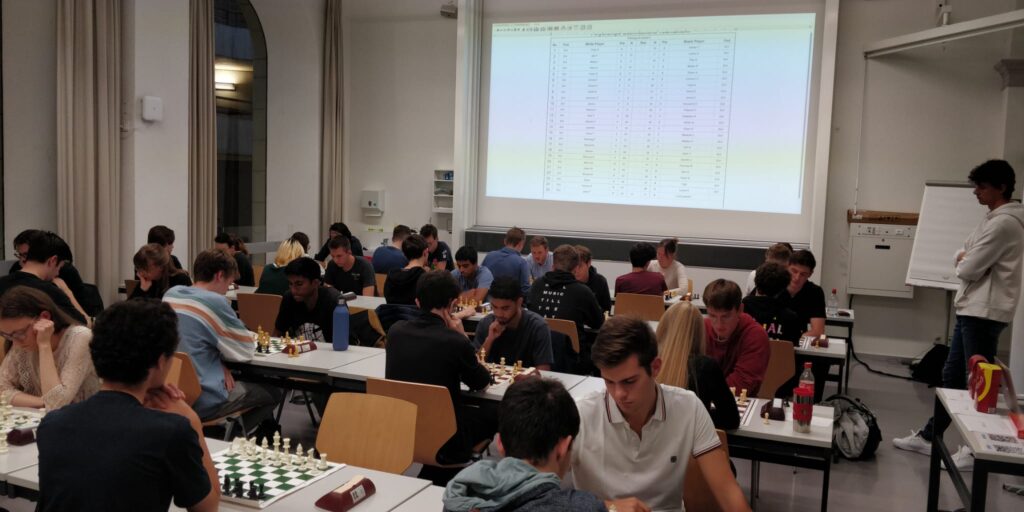 After battling for nearly 3 hours, Theo emerged as a clear winner with a perfect score, ahead of Mateo, Lukas and Matej, each getting 5.5 out of 7 possible points. As best women, Ana and Gohar were only half a point behind the podium places with 5 points each, playing formidable chess to earn the possibility to participate in the Polychamps.
With a lot of positive feedback and new experiences, we are eager to implement those in future tournaments and events. Additionally, the final decision for the Polychamps participants will be announced shortly, so stay tuned for more!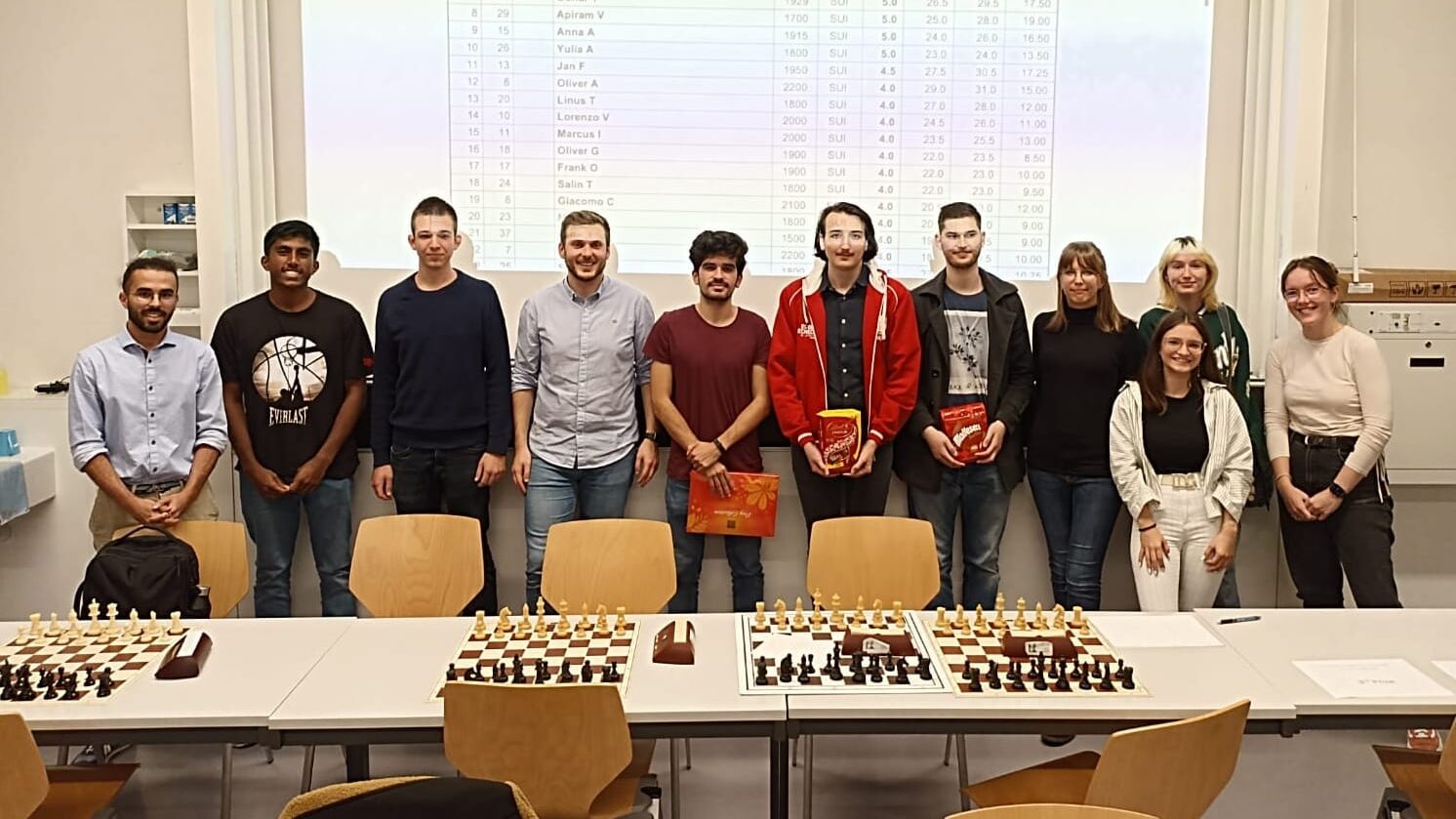 Here are the final standings of the tournament.
| Rank | Name | Rtg | Score | Buc1 | BucT |
| --- | --- | --- | --- | --- | --- |
| 1 | Theo S | 2356 | 7.0 | 30.5 | 33.5 |
| 2 | Mateo R | 2217 | 5.5 | 31.0 | 35.0 |
| 3 | Lukas O | 2250 | 5.5 | 29.5 | 33.5 |
| 4 | Matej J | 2241 | 5.5 | 28.5 | 32.0 |
| 5 | Ana V | 1700 | 5.0 | 28.0 | 29.5 |
| 6 | David O | 2200 | 5.0 | 26.5 | 29.5 |
| 7 | Gohar T | 1929 | 5.0 | 26.5 | 29.5 |
| 8 | Apiram V | 1700 | 5.0 | 25.0 | 28.0 |
| 9 | Anna A | 1915 | 5.0 | 24.0 | 26.0 |
| 10 | Yulia A | 1800 | 5.0 | 23.0 | 24.0 |
| 11 | Jan F | 1950 | 4.5 | 27.5 | 30.5 |
| 12 | Oliver A | 2200 | 4.0 | 29.0 | 31.0 |
| 13 | Linus T | 1800 | 4.0 | 27.0 | 28.0 |
| 14 | Lorenzo V | 2000 | 4.0 | 24.5 | 26.0 |
| 15 | Marcus I | 2000 | 4.0 | 23.5 | 25.5 |
| 16 | Oliver G | 1900 | 4.0 | 22.0 | 23.5 |
| 17 | Frank O | 1900 | 4.0 | 22.0 | 23.0 |
| 18 | Salin T | 1800 | 4.0 | 22.0 | 23.0 |
| 19 | Giacomo C | 2100 | 4.0 | 20.5 | 23.0 |
| 20 | Mouss K | 1800 | 4.0 | 20.5 | 22.0 |
| 21 | Yigit | 1500 | 4.0 | 19.5 | 20.5 |
| 22 | Ritvik R | 2200 | 4.0 | 18.5 | 20.5 |
| 23 | Serafin J | 1800 | 3.5 | 27.5 | 29.5 |
| 24 | Filip S | 1900 | 3.5 | 23.0 | 25.0 |
| 25 | David Z | 1750 | 3.0 | 26.0 | 27.0 |
| 26 | Giedre | 0 | 3.0 | 25.0 | 26.0 |
| 27 | Fionn S | 0 | 3.0 | 24.0 | 25.0 |
| 28 | Laura A | 1470 | 3.0 | 23.0 | 24.5 |
| 29 | Jonas E | 1600 | 3.0 | 22.0 | 24.0 |
| 30 | Melanie J | 1300 | 3.0 | 22.0 | 24.0 |
| 31 | Thibault V | 1470 | 3.0 | 22.0 | 23.0 |
| 32 | Matteo C | 1800 | 3.0 | 21.0 | 23.0 |
| 33 | Arnisa F | 1600 | 3.0 | 19.5 | 21.0 |
| 34 | Laxman | 1800 | 3.0 | 19.0 | 21.0 |
| 35 | Peter B | 1500 | 3.0 | 19.0 | 21.0 |
| 36 | Janis L | 2100 | 3.0 | 18.0 | 20.0 |
| 37 | Vincent | 0 | 3.0 | 15.5 | 16.5 |
| 38 | Giovanni O | 1500 | 2.0 | 23.5 | 26.5 |
| 39 | Vladislav K | 2000 | 2.0 | 20.5 | 21.5 |
| 40 | Bob S | 1700 | 2.0 | 20.0 | 21.5 |
| 41 | Nicola W | 0 | 2.0 | 19.0 | 20.5 |
| 42 | Sinan | 0 | 2.0 | 16.5 | 17.5 |
| 43 | Marcell B | 1300 | 2.0 | 16.0 | 17.0 |
| 44 | Thomas M | 1400 | 1.0 | 25.5 | 26.5 |
| 45 | Orit N | 0 | 1.0 | 22.0 | 24.0 |
| 46 | Henning F | 1700 | 1.0 | 20.0 | 22.0 |
| 47 | Rasmus K | 0 | 1.0 | 19.5 | 21.5 |
| 48 | Marco B | 1800 | 1.0 | 17.0 | 18.0 |
| 49 | Elinor | 0 | 1.0 | 17.0 | 17.5 |
| 50 | Julien M | 1400 | 1.0 | 16.0 | 17.0 |
| 51 | Jose P | 1600 | 0.0 | 22.5 | 24.5 |